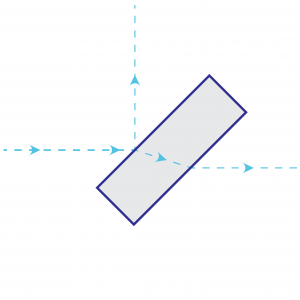 BEAMSPLITTER COATINGS
Mirror specifications:
Please select the required beamsplitter coating from the table of standard splitting ratios / AR coatings below, applicable to substrates up to 101.6mm (4") in diameter.
If you need beamsplitters larger than 4" (101.6mm) in diameter or if you cannot find the coating you require in the table, please do not hesitate to contact us for a quotation. We might even have a suitable optic readily available from stock.
COATING TYPE

WAVELENGTH – 355 nm/ 532 nm / 633 nm / 800 nm / 1030 nm or 1064 nm

Partial reflector – splitting ratio 20% / 50% / 80% /

Standard coating for 1" – 4" diameter substrate

90% / 95% or 98% at 0º or 45º rand.-POL
Anti reflection (AR) coating for 0º or 45º rand.-POL

Standard coating for 1" – 4" diameter substrate
Partial reflectors reflectivity tolerance:
+/- 3% for 20%R and 50%R
+/- 2% for 80%R and 90%R
+/- 1% for 95%R
+/-0.75%R for 98%R
Anti-reflection coatings: <0.25%R for 0º and <1%R for 45º rand.-POL